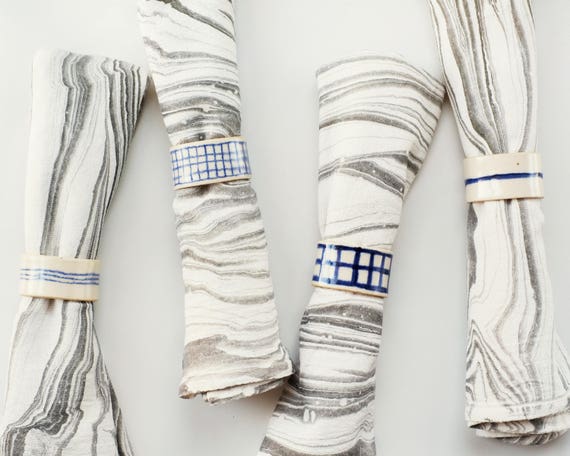 A set of eight mismatched napkin rings made of ceramic and decorated with a modern blue pattern.
- Each pattern is hand-painted, you will receive a set similar to the one shown in the second photo.
- If you are interested in a set of 4 napkin rings, click here: https://www.etsy.com/listing/555795581/
- Each napkin ring measures 1.25 in. (3 cm.) by 1.75 in. (4.5 cm.). The open diameter of the napkin ring is about 1.5 in. (4cm.).
- Dishwasher safe, hand-wash recommended.
- Napkins not included.
- Handmade in Brooklyn, NY.
Keep your napkin in your favorite ring to claim it for your next meal, it'll save you and your family the hassle of washing your fabric napkins each time you use them.
___________________
Follow @AWAYSAWAY on Instagram to see the process behind the product.