← Back to Product Listing
set of 2 hand-carved ceramic cups / tumblers / mugs / raw clay with bright white glaze / zig zag pattern // "GROOVE"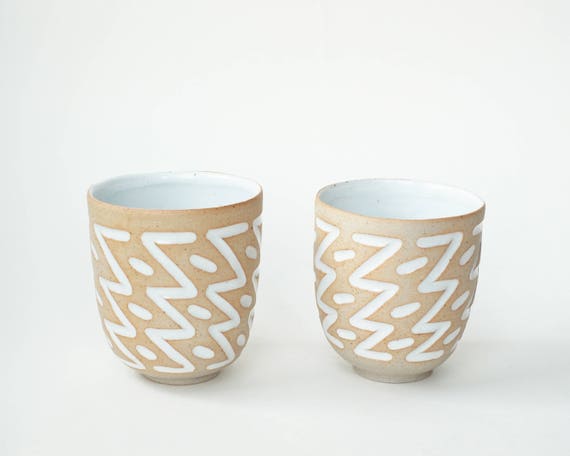 Ceramic stoneware cups hand carved with a zig zag pattern and glazed in bright white that's peppered with small black flecks.
This listing is for two cups.
- Measure roughly 3 in. (7.5 cm.) wide by 3.5 in. (9 cm.) tall. See photos for scale.
- Each cup holds up to 8 oz. / 250 ml. and can be stacked.
- Cups are thrown on the wheel, fired, carved by hand, glazed and fired again.
- Grooves of the carved patterns are filled with glaze, adding a crisp contrast with the raw surface. See photos and zoom in for detail.
- Handmade in Brooklyn, NY.
____________________________________________
Follow @AWAYSAWAY on Instagram for shop updates.
To see more items, click here: awaysaway.etsy.com